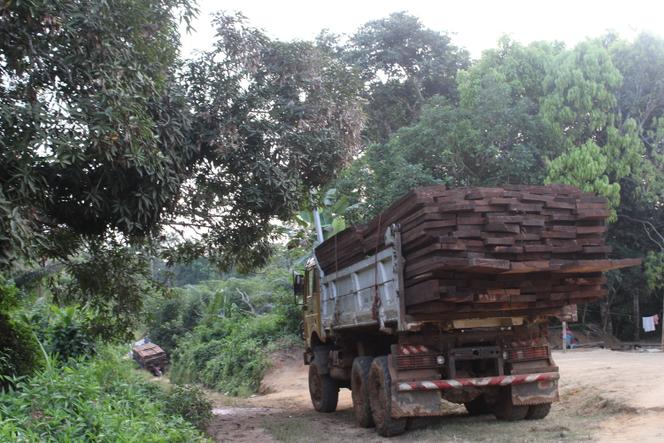 It is 2:25 a.m. in Yaoundé. On a paved road in the Emana district, two trucks loaded with logs are driving at high speed. Like every night, there will be dozens of them, coming from the forest regions of the South, East or Center, to cross the capital of Cameroon. The loads of wood are all alike, except for one detail: some logs are marked, others not, like in these two trucks we met in the early hours of Emana.
If the night transport of wood in agglomeration is authorized in Cameroon, the circulation of "logs not covered with the regulatory marks prescribed in the specifications", it is prohibited. A ban that does not prevent the many trucks loaded with unmarked wood from passing the checkpoints of the police, customs and agents of the Ministry of Forests. And for good reason : "Every controller knows you're coming"they are warned and let it happen, assures Derek*, a logging truck driver.
Since 2008, this 40-year-old has been traveling hundreds of kilometers every week for deliveries to Vietnamese and Chinese sawmills and to the ports of Douala and Kribi. Derek is mostly used to transporting illegal wood, nicknamed "warp" Or "without underpants" (unmarked) in the middle. The shipments consist of wood authorized for export but cut without authorization. Logs taken without respecting the diameter of the trunks – which indicates the degree of growth of the tree – or species prohibited from cutting or export.
For one year, The world And InfoCongo met with dozens of timber traffickers, residents and drivers of illegal logs in Cameroon. Their testimonies, as well as official documents from the Ministry of Forests and Wildlife (which did not wish to answer our questions), show that illegal logging is accelerating.
"It was for a colonel"
According to Derek and his colleague Raoul*, met in November 2022 in Yaoundé, the sponsors are most often influential personalities. Businessmen, executives of the army, the administration or deputies who pay or take advantage of their authority to escape controls. A few days before our meeting, Derek delivered wood cut illegally in the forests of the Center to a sawmill run by Vietnamese in the Ahala district of Yaoundé. "It was for a Colonel ", he confides.
If this father of fA large family knows as much, it is because by dint of working in the sector, he has learned to take precautions. So the "Colonel" gave him a "video call from his office to (THE) to reassure » : "Here is my contact, if you have any problem, I will unblock", he promised her. The sponsor "manages everything, he pays, he takes the registrations and sends them by WhatsApp" at checkpoints, adds Raoul. According to these drivers, the majority of their deliveries are made to Vietnamese sawmills, which launder them for export via the ports of Douala and Kribi.
You have 78.33% of this article left to read. The following is for subscribers only.